The new legislation to be introduced in April 2016 requires all breeders to microchip their puppies before they go to their new homes, before they are 8 weeks old.
All dog owners in England, Wales and Scotland, must get their dogs microchipped by 6 April 2016 to ensure they are compliant with the law.
It is the responsibility of the owner to ensure that contact details for the dog/dogs are kept up-to-date to ensure a dog can be reunited with its owner in the event that it is lost or stolen.
To check an animal's details, visit the Petlog website; enter the microchip number in the search engine to find which database the microchip is recorded on. Once you know the database you can then contact them directly to do a search with that database.
When deciding on which microchip to use, why not think about one that's associated with a reputable, sustainable database?
Petlog, managed by the Kennel Club, is a database that is compliant with new regulations, has ISO 9001 and 27001 standards and is the UK's largest database of microchipped pets.
Petlog works with 12 leading suppliers including: Tracer, PetID, Pet Detect, Peddymark, Datamars, Eezytrac, Micro-ID, Identics, CoreFRID, Identitrack, Backhome and HDI Chip International.
For more information on Petlog and its suppliers click here.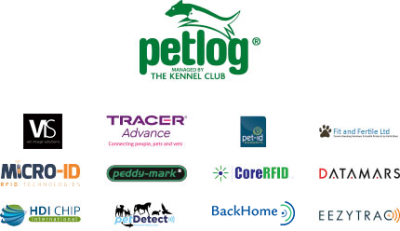 It is compulsory for all dogs to be microchipped
Puppies must be microchipped by 8 weeks
Breeders are responsible for microchipping and must be recorded as the first keeper
The recorded keepers (where the dog resides) MUST keep contact details up to date
Vets are not expected to do much differently with regards to microchipping. Vets should be aware of the regulations and the requirement for puppies to be microchipped by the time they are 8 weeks old and also of the exemptions to this and explain the benefits of microchipping to dog owners.